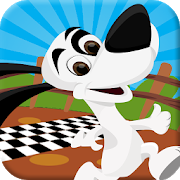 Farm Town Run
Welcome to the Farm Town! Participate with your favorite animal in the Farm Town Run challenge. Collect coins, gift boxes and powerups. Use coins and special unlock items to unlock new characters. Knock down characters that get in your way and avoid being knocked out by the ones faster than you on the track.
Farm Town Run is a mobile port of the game Farm Town Surfer. The complete port of the game is not ready and this game can be considered an early access title that requires your support to finish. NOTE: The in-apps in this game do not work! To get special items, you will have to use the in-game currency, which are coins.

How to play:

Use Arrow keys to move left and right (change lanes). Use space button to jump and the down arrow key to roll.
Future Plans:
- Add multiple environments and custom characters.
- Character costumes.
- Dynamic obstacles and more environmental hazards, including manholes, rival characters on side.
- Pitstops, to change characters during runs.
- Add objective based career mode.

Download
Click download now to get access to the following files:
Farm Town Run WebGL 0.1.zip
84 MB
Also available on